One of the most common mistakes endurance athletes make is thinking they don't need the gym. This is true even at the elite levels. In a study of Olympic marathon qualifiers, nearly half of the participants reported performing no strength training at all.
Those that did perform strength training only had 1 session per week. This mentality is seen in the cycling world as well.
There is a massive misunderstanding between strength training and endurance athletes (spoiler: strength training for cycling is a good idea), so let's try to clear things up so that you can start to benefit from weight training.
Jump to:
Why Cyclists Need to Strength Train
Even when cyclists do enter the gym, they go with the wrong mindset. They think they should use light loads and high reps in the gym since they are endurance athletes. 
The average cyclist peddles somewhere between 70-90 RPM, dependent on the incline. That's 4,200-5,400 revolutions every hour. Stop thinking you are going to replicate this volume in the gym. It's not gonna happen. 
Nor should you try.
As a cyclist, you get plenty of endurance training on the road with 50km rides, and intervals. When we go to the gym, we want to use the equipment to train for what matters to only be done in the gym. We find three main variables that we can improve in the gym that have the greatest transitional benefits to the road.
1) Power
Power is the term used to describe the ability to move weight through the air quickly and acceleratedly. Think of a snatch (power) vs. a heavy squat (strength). A study that looked at what variables determined success in endurance athletes found that maximal power and endurance-specific power tests were at the top of the list.
2) Rate of Force Development (RFD)
As the name suggests, RFD is the neuromuscular system's ability to produce power rapidly. Greater RFD can result in greater power, work economy, and is believed to be just as important to endurance athletes as it is to power and sprint athletes.
3) Neuromuscular Efficiency (NE)
NE refers to your muscles' ability to communicate better. Improved NE has been found to improve both economy AND cardiovascular function. 
Concerning endurance athletes and neuromuscular adaptations through training, Bonnacci, et al (2014) states that "recent research" backs up the claim that "superior cycling….is evidence of greater NE".
When we go to the gym, we want to improve these!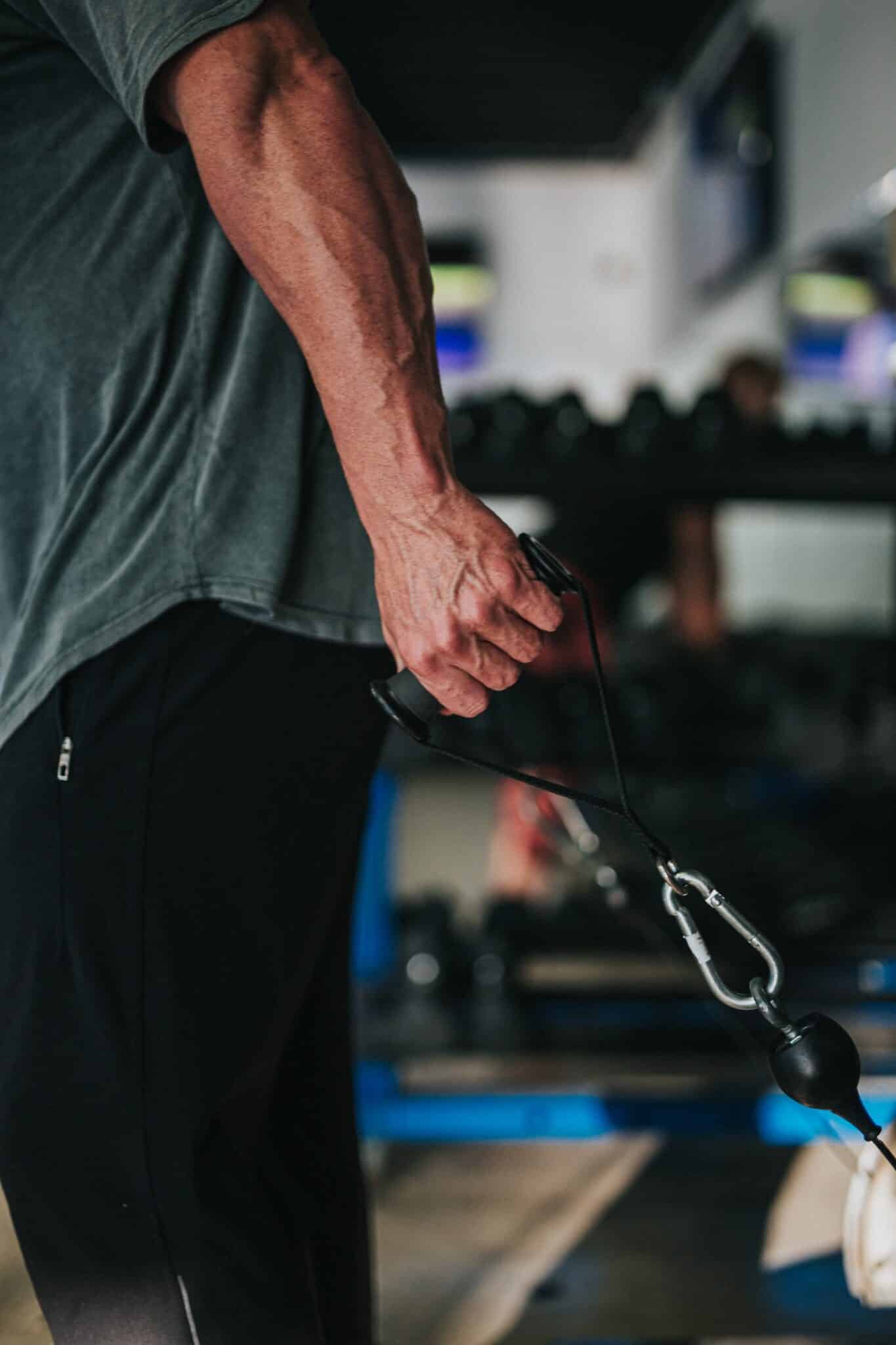 Training Types
Luckily, all of these are related and can be improved simultaneously using heavy loads and light loads performed explosively. Studies have shown that utilizing a mixture of explosive power training, maximal strength training, and plyometrics results in an increase in all three and can improve cycling performance
Explosive Power Training
Explosive power training can be done using either lighter loads at around 75% or higher loads at 90%. Regardless, the reps and sets are similar. You will do low reps of > 3 for high amount of sets 4-7. The key for power is speed production. Every rep is performed with maximal effort. 
A study which utilized maximal strength and explosive movements over 20 weeks found cycling performance was significantly improved in men.
Maximal Strength Training
Maximal strength training refers to working with heavy loads in the 4-6 reps for range for 3-5 sets using loads at approx. 85-87% 1RM. A study that implemented heavy leg training working up to 4RM-6RM found that cycling performance improved in well-trained cyclists.
It should be noted that some studies have also found loads of 10RM have also been effective.
Plyometrics
Plyometrics refers to using your body in explosive movements in a subsequent manner i.e. at least 2 jumps. This can be with movements such as depth jumps, hops, plyo-jumps, etc.
The key with plyometrics is to limit the amount of time your foot makes contact with the ground yet still create greater forces.  
One important aspect is to keep in mind is that these movements are not done until fatigue. The main objective is to increase neuromuscular efficiency.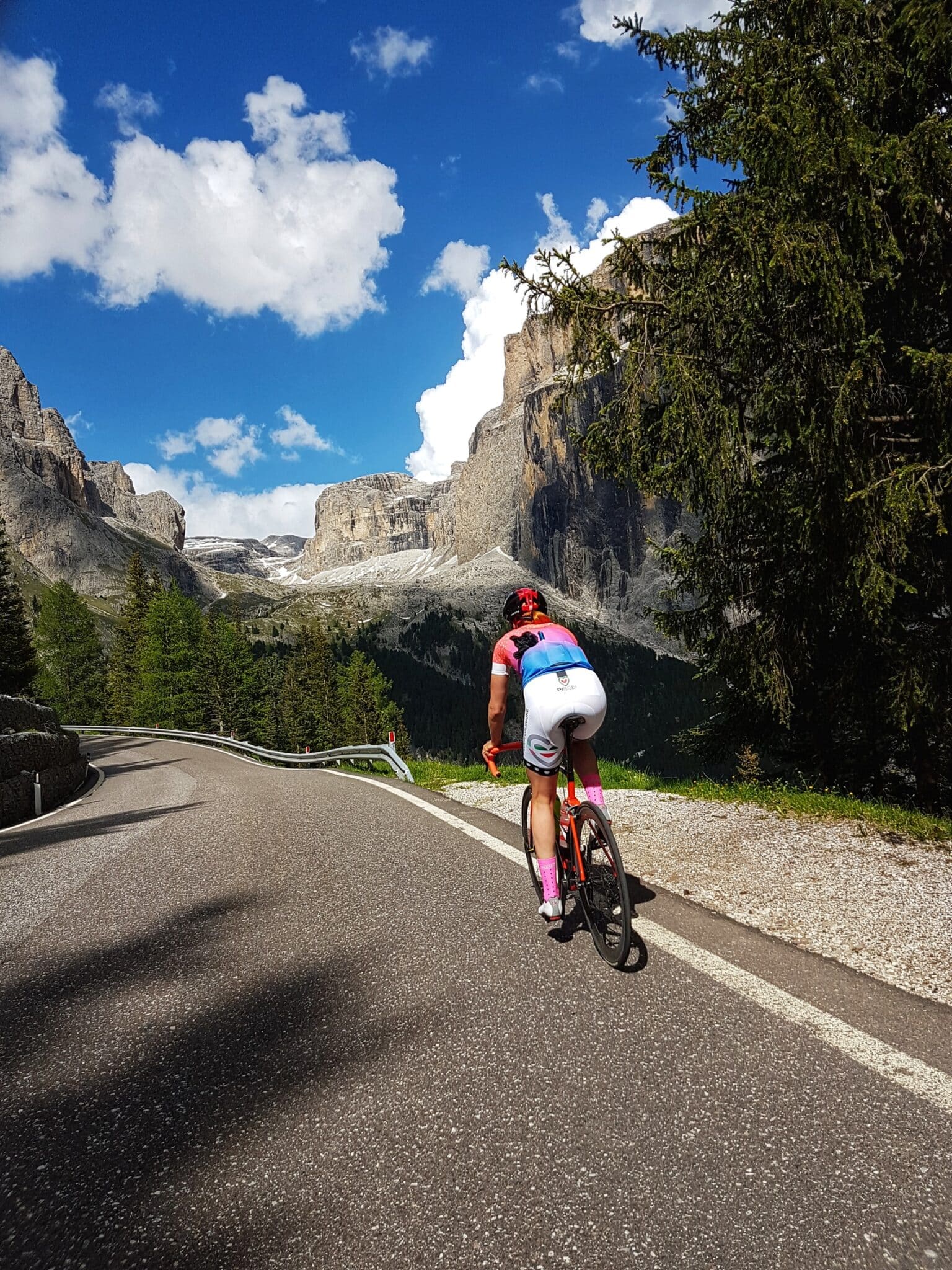 Type of Exercises
Studies have shown that muscular activity in the thigh muscles vary throughout a full crank. This means that due to the cyclical nature of cycling, glutes, hamstrings, and quadriceps are all heavily involved as the legs will both push and pull.
Therefore, when training for performance (i.e. when you're strength training for cycling performance/speed), you want to use multi-joint exercises. Not only do we get to train more muscle mass with one exercise, multi-joint exercises are vastly superior than isolation movements in terms of developing power and strength.  
To give you and idea, here are various exercises which have been used in studies to improve performance:
Deadlifts
Rack Pulls
Front Squats
Squat Jumps
Depth Jumps
Cleans
Isolation movements and lighter weight do have its place in a training regime for joint stability or rehab. However, you'll want to stick to big movements when your goal is to increase performance.
Don't take chances
Of course, if goes without saying (but I'm going to say it anyways)...you should always consult with your doctor before starting any sort of new training regimen or exercise.
If you're new to the gym, it's always good practice to hire a professional trainer or coach to (at the very least) show you the proper form and technique required for the exercises you are working on.
And if you're over 40 or new to cycling, you may want to check out my Beginners Over 40 Guide to Cycling.
Strength train for better performance cycling
Strength training is a great way to increase your performance in a way that just can't be replicated in the saddle. As a cyclist, don't neglect going to the gym and when you do go, train in a manner that your performance will be improved. Nobody wants to waste their time. Simply put:
Lift Smart, Train Smart, Ride Faster.
Get our FREE NEWSLETTER! Follow on Instagram, and Pinterest for updates.