A collection of the best gifts for cyclists. This list will include gifts of various budgets to make sure you can find the right gift for the cyclist in your life.
Holiday season is somehow already around the corner, and you're looking for cycling-related gift ideas. The cyclist (perhaps, bad cyclist?) in your life has been gifted conventional socks for far too long, and this year you're getting them something to do with their passion for cycling. Great idea!
(No, seriously...it's actually very thoughtful of you.)
Jump to:
Finding the best gifts for cyclists
What gift you choose for the cyclist in your life can depend on a few different factors:
Budget. Cycling can be an expensive past time, and the amount available to spend on a gift can be a crucial factor in helping your choose what gift to get a cyclist.
Type of cyclist. Knowing the type of cycling your lucky gift-receiver is engaged in can make the gift you choose much more personal. Don't worry though, if you're not sure, we've got a number of general cycling gift ideas that will work for all types of cyclists (think: road cyclist, commuter, mountain bike rider, etc.).
Type of bike. This can be tough, especially if you're not a cyclist yourself. But knowing what type of bike someone rides will make it easier to choose an appropriate gift for them. Why? Because not all bikes are alike. For example, my Fuji Feather (which I use as a commuter bike) doesn't have any pre-drilled holes to mount a standard bottle cage. So I need to carry my water bottle in my backpack!
This post may include affiliates links. This means that if you happen to purchase something using this link, Bad Cyclist may receive a small commission. Thank you for your support!
Useful cycling gifts
Here are a few useful cycling gift ideas. These are gifts that just about any general cyclist can make use of.
Quad Lock
A dedicated phone mount for cyclists such as the Quad Lock (this link will get you a 10% discount!) is always appreciated. It's great for commuters and even weekend road racers. While these are arguably best in class, they're still quite reasonably priced when it comes to protecting one's beloved smartphone.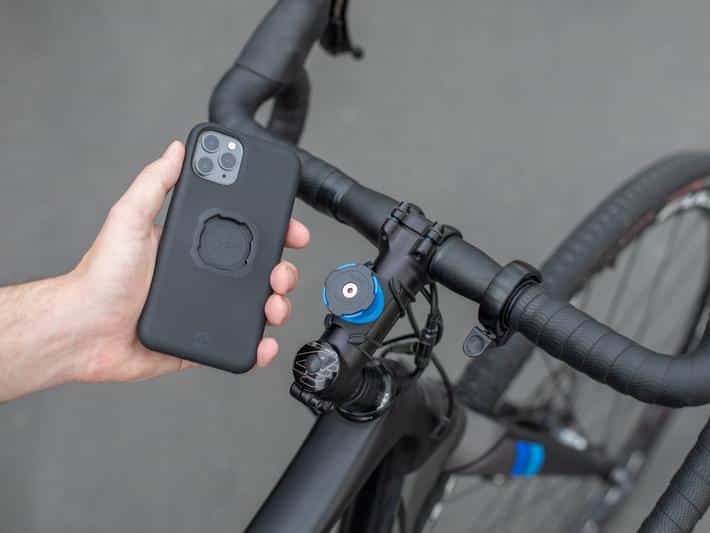 Better bike lights
One item every rider skimps on is their bike light. Everyone knows they should get a more powerful bike light, but everyone waits (often until it's a little too late and the damage has already been done). A better bike light is useful and will help to keep your cyclist safe without breaking the bank.
Multitool
A multitool is an essential carry for cyclists. It's one of those things you bring along and hope to never need to use.
Gifts for the special cyclist in your life
These gift ideas cost a little more, and are for the very special cyclist in your life.
360 camera
360 cameras are the cool new kid in town for cyclists. While they fit firmly in the luxury category (unless you're a cyclist and aspiring Youtuber), 360 degree cameras such as the Insta360 x3 (use this link to get some free accessories thrown in!) are still a lot of fun! Not only do they let you record your ride with some unique angles, but editing is a breeze!
If you're interested in this option, make sure to read How to film your bike ride to make sure this is the best camera option for the cyclist in your life.
Bike computer
For the more dedicated cyclists (especially those that are performance-focussed), a bike computer is a must. There are a lot of great options, but the Garmin Edge bike computer has long been the industry standard.
Indoor resistance trainer
One issue with cycling is that it means you're always on the road. If your partner is a cyclist and you want them to be home a little more often, consider the Wahoo Kickr Direct Drive - this indoor cycling trainer means your partner can get their cycling fix without leaving the house. It's also perfect for the winter or rainy cycling season.
Cycling gifts that keep on giving
There's an argument that the best gifts for cyclists are ones that can be used year-round with little hassle or preparation. In this sense, cycling subscription services are quite ideal. Do note though, that to really make use of them, some sort of at-home spin bike or ideally an indoor cycling trainer is required.
Wahoo SYSTM
Wahoo SYSTM is one of the best subscription services for dedicated cyclists. Not only does it have a great app with plenty of content, it is now the home of the Sufferfest, which was one of the best indoor cycling programs ever.
Peloton Digital
The app-only version of Peloton provides great value - workouts of all type including some great cycling/spinning classes that cyclists will love. This is a much more economical way to enjoy Peloton's offerings (without the need to invest in an actual Peloton bike).
Zwift
Possibly the most popular cycling app available, Zwift is easy to get into for any level of cyclist. It's fun, user-friendly, and can become very challenging as you're riding with real people!
Any other ideas? Drop us a comment and let us know.
Get our FREE NEWSLETTER! Follow on Instagram, and Pinterest for updates.