If you've ever wondered how to film your bike ride, this post is for you! We're going to walk through a few different options (don't worry, we'll tell you which options are better or worse too), and then look at how to optimise each bike filming method to your wants!
There is a little catch here - the assumption this post makes is that you're trying to film your bike rides by yourself. If you have a separate camera crew, or multiple camera options at your disposal, your optimal set up will be different...but the information in this post may still prove handy.
Jump to:
This post may include affiliates links. This means that if you happen to purchase something using this link, Bad Cyclist may receive a small commission. Thank you for your support!
Considerations when filming on a bike
Learning to take video while riding is exciting. However, there are a few small things to keep in mind. Filming while riding your bike isn't the same as filming while stationary or even filming while walking.
Image Stabilization
Your primary concern is going to be image stabilisation - that is, keeping the camera steady so that the video is steady (a jumpy video is NOT pleasant to watch). While most cameras have some degree of stabilization built-in, they are not all equal (nowhere near!).
Camera Durability
Filming your bike ride has some inherent risks to your camera. First off, you may drop it or crash your bike - ideally, you'd like the camera to survive and still be usable.
Secondly, little bits of dirt or gravel may be kicked up against your camera lens while you ride. Super sensitive lenses (which are also often the highest quality and priciest) tend to be very delicate and easy to scratch.
Mounting ease
One of the biggest deterrents to doing something (like filming a bike ride) is the obstacles to it. If it's easy to mount your camera, it's more likely that you will do so, and therefore more likely that you will get your bike ride filmed. If mounting or setting up your camera is a real pain, then it's less likely that you'll do it!
Action cameras
Using an action camera like a GoPro is our favourite way of videoing your bike rides. GoPro's are the industry standard for action cameras, their durability, ease of use, and relatively affordable price tag makes them a great option for most people.
If you're on a budget, consider a secondhand GoPro or an Insta 360 Go 2. They're better value for money than other competitor brands. If you have a slightly higher budget, check out the Insta 360 ONE RS, which is a hardy action camera with the ability to take 360 degree footage as well!
If you're filming with a single GoPro, you have a few different mounting options. The chest mount is my preferred way of filming bike rides, but a helmet mount is also a popular option.
Image stabilization: Excellent
Camera durability: Excellent (plus GoPro's replacement program is great)
Mounting: Plenty of options make this a breeze
360 cameras
Insta360 cameras is a great option for a 360 camera. They're a bit more complicated to edit than a standard action camera, and the video quality typically isn't quite as crisp, but the 360 degree view allows for unique shots without much fuss when filming.
The GoPro Max is another popular option, and although cheaper than the latest Insta360 x3, it is very outdated at this point, and should be avoided if you can.
The Insta360 x3 (use this link to get some free accessories thrown in!) is a great 360 degree camera option. Specific bike mounts allow you to install the camera in front or behind your bike (meaning you can film yourself while riding too!), while a helmet mount allows for a 360 view around you. My personal preference is the front bike mount.
Image stabilization: Excellent
Camera durability: Okay (the lens is quite exposed, but should be fine as long as you don't crash, and no rocks hit the screen)
Mounting: Excellent (there are several unique mounting options, and several ways to connect the camera to GoPro's mounts (though you won't always be able to take advantage of 360 video)
Your phone
Mobile phone cameras have developed at a fantastic rate. Top tier phone cameras can rival action cameras in terms of picture quality but don't have the durability, mounting ecosystem, or image stabilization.
They're a great option if you want to film your ride once (or just a few times), but if you want to film your bike rides regularly, then a dedicated camera is a better option.
Regardless of which mobile phone you use, a Quad Lock mount is likely the most secure/convenient option for mounting to your bike (using this link will give you 10% off your total order) - all you need to do is twist the bar mount so that the phone camera is facing the direction you want to film!
Image stabilization: Terrible to very good (depending on your phone)
Camera durability: Quite good (but there's potentially more at risk if you drop your phone)
Mounting: Limited (I recommend getting a Quad Lock)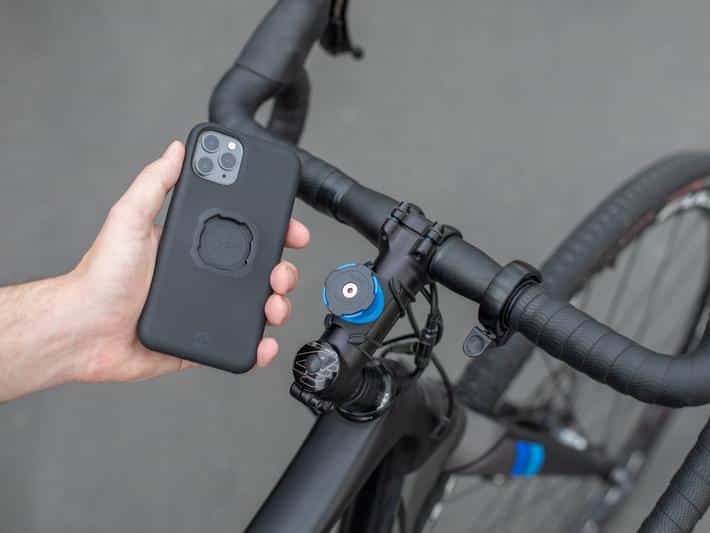 Drones
Consumer drones are amazing devices. There are a number of fantastic options on the market and as long as the drone you use has an effective Active Tracking feature, you can use it to film yourself riding your bike.
As drones are above ground, you don't have to worry about gravel or rock scratching the lens (just make sure you're flying in a clear area so it doesn't get stuck in a telephone wire or something).
You are limited a bit when it comes to city rides as not all drones are allowed in all areas (but the recommendation below is allowed everywhere drones are permitted to fly), and because you will have to stop or slow down occasionally to make sure the drone is doing okay!
The DJI Mini 3 Pro is likely the best introductory drone. The video quality is good enough for most use-cases (aside from commercial videographers), and the price point is reasonable...keeping in mind that you're buying a drone.
There are much cheaper drones on the market but they are mostly a waste of money. They likely won't have the features, or the quality to justify their purchase. If you're looking for a cheaper option, look for a used DJI Air 2s.
Image stabilization: Excellent
Camera durability: Excellent (as long as you're in an open area)
Mounting: Not required (except for the controller, which can be a hassle, but can also just be put into your backpack/jersey pocket)
Traditional Camera
Don't do this. Unless you're a professional filmmaker, why would you even consider this? It's a pain to mount, it's dangerous (and very costly to fix), and it also isn't much fun to ride your bike with a bulky traditional/digital camera set up attached to it.
Image stabilization: Mostly mediocre (depending on camera)
Camera durability: What durability?
Mounting: Headache.
What are your thoughts? What is your favourite way to film your bike rides? Let us know in the comments below.
Get our FREE NEWSLETTER! Follow on Instagram, and Pinterest for updates.