Mobile phones have become an integral part of our live. For many, it's possible to imagine going out without their phone, and given all the things our phones can do, from taking calls, to acting as a bike computer via apps like Strava, it makes sense to keep your phone with you on a ride too.
That said, if you're new to cycling, there's a very real possibility that your phone may cost more than your bike! Having your phone pop out of your pocket while cycling is a nightmare many newbie cyclists face, so here are a few ways to make sure you phone stays as safe as possible.
(Please make sure to also keep yourself safe. Don't ride recklessly or without a helmet. Your phone is great and all, but it won't replace your skull. At least, not anytime soon. So, put it away while you ride.)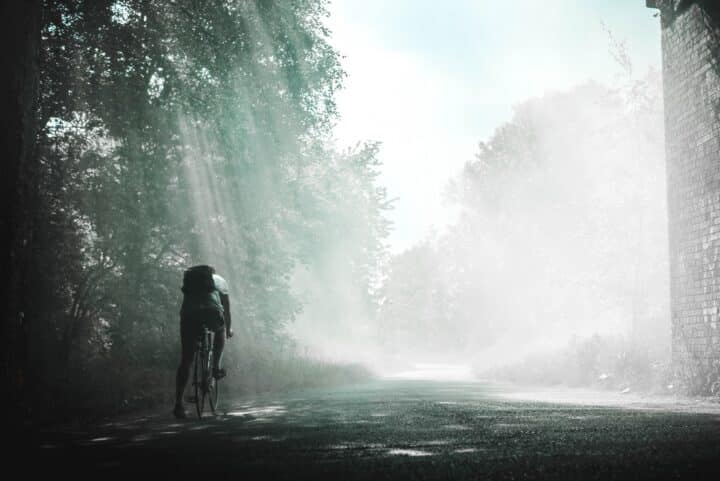 Jump to:
This post may include affiliates links. This means that if you happen to purchase something using this link, Bad Cyclist may receive a small commission. Thank you for your support!
Bike-specific phone case
Probably the cheapest, and most practical option for casual cyclists is a simple phone case that attaches to your bike using Velcro or some form of strap. This allows you to carry your phone, as well as use it as a bike computer. Many of these are one-size-fits-all options.
Suggested Item: Opamoo Bike Case
Quad Lock
The Quad Lock (and similar devices) are a super secure, slightly-pricey, option that mounts your phone to your bike, allowing you to see it while you ride, and easily take it off once you're done (the phone…the Quad Lock itself is mounted to your handlebar).
For those of you that ride very bumpy routes, Quad Lock also offer a vibration dampener, which will help keep your phone's camera intact. This is generally more of an issue if you ride a motorcycle, but a commenter mentioned having this issue on their bike, so I've added this here - the more you know, and all that!
The biggest downside is that it requires you use a specific phone case (meaning you'd have to replace your regular phone case with it, or switch it out whenever you ride) – if you change phones, you'll need to obtain a new phone case too.
You can learn more at the Quad Lock website. (Using this link will give you 10% off your total cost.)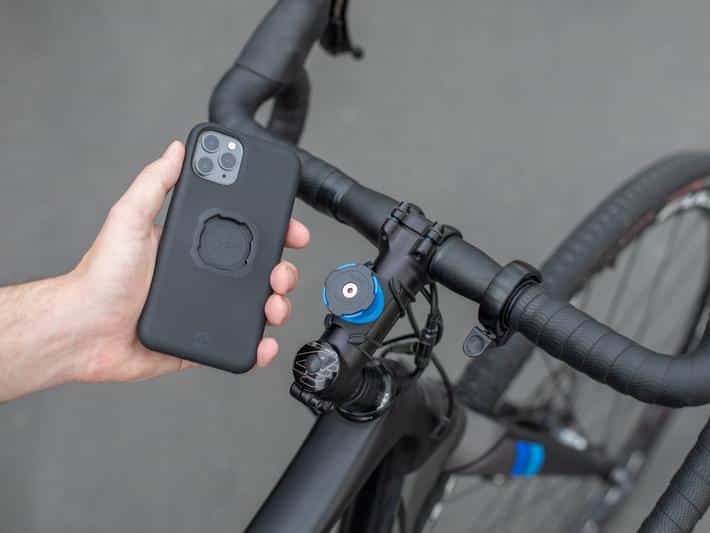 Armband
A favourite for many runners, armband holders can be used for cycling as well. They operate in much the same way as a bike case (except, you know…strapped to your arm). The key difference is that you can't see your screen while riding, negating your phone's ability to act as your bike computer.
Suggested Item: Tune Belt
Jersey pocket
If you're wearing a cycling jersey, your jersey pocket is the simplest option. If your phone is small enough, and a zippered pocket is available, that's a pretty ideal spot to store it. Bear in mind, if you're carrying a larger phone (I carry an iPhone XS Max, for example), or your jersey pocket isn't very secure, there is a small chance that your phone will pop up when you hit a bump…and a very large chance that it will bounce up and down annoying every time you hit any sort of level change!
To counter the 'jersey bounce', you might consider the Rainproof Essentials case from Rapha, or a super protected Otter box case. Both of these items are...for lack of a better word...bulky. And putting your phone in either is a way to pad it up enough so that it sits snug in your jersey pocket. (With respect to the Essentials Case, you can fit a few other things in there too.)
Cargo shorts / Bib shorts
Traditionally, cycling shorts and cycling bib shorts haven't contained pockets. But the cycling design gods have finally heard our prayers, and cargo bib shorts/cargo cycling shorts are finally a thing.
Essentially, these are the same as regular cycling shorts or bibs, but they have either lycra or mesh pockets on each thigh, and sometimes (in the case of cargo bib shorts) on the back as well. Since getting my first pair of cargo bib shorts, this is my personal favourite way to carry my phone while cycling.
The downside is that it's not very easy to access your phone while riding, and if you want that svelte road cycling look, a bulky phone sticking out of your thigh can hurt the aesthetic somewhat.
I use 7 Mesh's MK3 Cargo Bib Short.
Bar Bag
A bar bag or a handlebar bag can have the added room to carry your phone, as well as a few other essentials. They're one of the more spacious options available, and can look quite nice, depending on which one you buy. They're not always easy to access while riding, but are a tried and true method to carry small essentials.

Backpack
Backpacks are a classic option to carry all sorts of things. Without a doubt, they are the most spacious option, allowing room to carry your phone while riding, as well as a number of other things (think: jacket, laptop, bike lock, text books, etc).
And if you're wondering whether a backpack is the best option for carrying heavier loads, checking out Cycling Backpacks VS Panniers for Commuters.
Suggested Item: Life Behind Bars Sprint Daypack
Basket
Pretty classic. Not much to say here...you can put your phone in your bike basket. It may rattle around a bit, but you should be able to reach for it quickly during pit stops.
…in your pocket. (But not really)
And last, and certainly least – your trouser pocket. Unless you have a large zippered pocket, this is generally not the best idea unless you like the idea of your phone living dangerously.
Have I missed anything? How do you carry your phone while cycling? Let me know in the comments below.
Get our FREE NEWSLETTER! Follow on Instagram, and Pinterest for updates.